JOHN PIRIE 1836
from London with Captain George Martin,arriving Nepean Bay (Kangaroo Island Aug 16th) - 28 passengers (23 adults, 5 children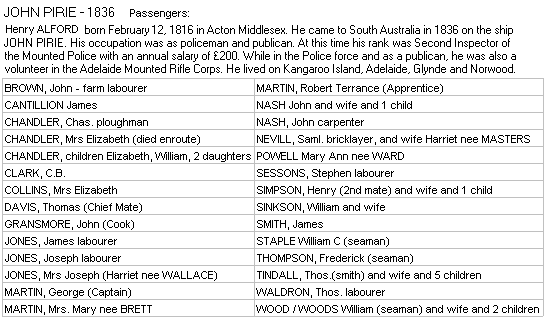 The Adelaide OBSERVER reported in August 21, 1886:
Mr Henry Alford arrived at Kangaroo Island on August 16th, 1836 in the schooner JOHN PIRIE with Captain Martin in command. He says:
The JOHN PIRIE left London first, and we had a spell of very bad weather. Had to put into Falmouth and Dartmouth for fresh supplies and repairs. We thought we would never see South Australia, as when crossing the Bay of Biscay we had very stormy weather, and had to batten down hatchways, the seas coming right over her. After that the voyage was a good one. Of the passengers, baby Chandler was a great pet on board. Her mother died on the voyage out.

Towards the evening of August 15th, 1836 we sighted the bold coast of Kangaroo Island, and there was great jubilation, but the Captain put back to sea, and waited till daylight. She was only 105 tons, but she made the run in good time. The second mate Mr Simpson (afterwards the well known Portonian, Captain Simpson) went up aloft and saw two ships anchored close inshore, so we were not the first.

Those were the DUKE OF YORK and the LADY MARY PELHAM. We were very glad of the run ashore, and to fraternize with those who had already arrived, and who gave us hearty cheers of welcome. They never thought we would arrive, as we were a washing tub steered with a tiller.

All the vessels hoisted their bunting, and their people gave us every assistance to land. We saw some of the islanders, who reminded us very much of Robinson Crusoe.