LADY BRUCE 1846
from London 2 - 08 1846 via Southampton & Plymouth with Captain John Liddell,
arrived Port Adelaide on 11-11-1846 (ten children died at sea)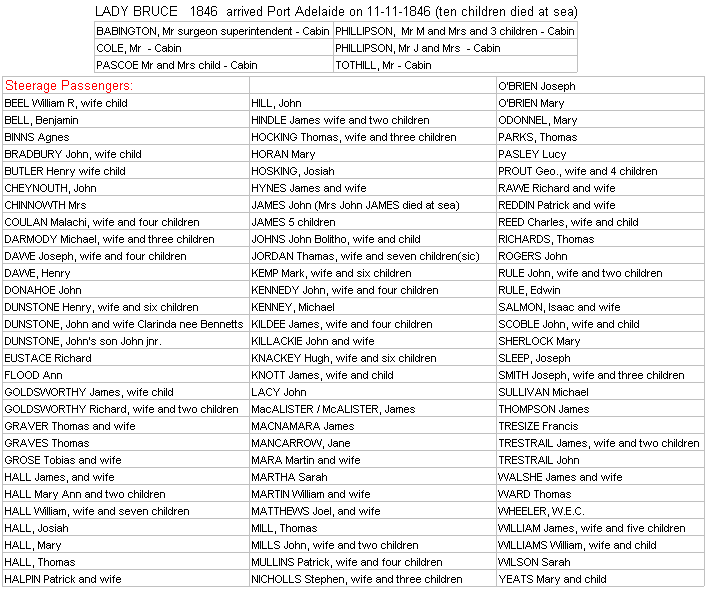 John DUNSTONE, married to Clarinda nee Bennetts in 1839 and were residents of Trevenson, near Camborne/Redruth in Cornwall. They emigrated to South Australia with their three children in 1846. They and Johnís brother, Henry with his wife, had been influenced by an emigration agent appointed by the South Australian Company to apply for free passage but, to meet the necessary criteria that a family should only have 2 children under the age of seven years, they arranged for brother Henry and his wife to join them and list John jnr. as their son.
They duly sailed from Plymouth on the LADY BRUCE, arriving at Port Adelaide on November 14th, 1846. In those days, the Port of Adelaide was in the Port Riverís upper reaches/mouth of the River Torrens (where West Lakes is now) and passengers had to wade ashore or be conveyed in rowing boats.

Joseph Dawe and his wife Mary (nee Rule) also emigrated to South Australia on ship "Lady Bruce".
Their son William Bruce Dawe was born November 11th, 1846 - the day before the arrived in South Australia.