DUKE OF PORTLAND - PASSENGER LIST:
South Australian REGISTER Newspaper
http://www.theshipslist.com/ships/australia/dukeofportland1850.htm
COUSINS, C. surgeon-superintendant - Cabin
CUBITT, Mrs. - Cabin
Mrs. Cubitt
CUMMING, Miss H. - Cabin
Miss H. Cumming
DODD, Miss Ann - Cabin
Miss Ann Dodd
HULKES, Henry Stephen Esq. (returning to the Colony) - Cabin
HULKES, Mrs. - Cabin
Mrs. Hulkes
JOHNSON, Mr. E. - Cabin
Mr. E. Johnson
McLEOD, Mr. H. - Cabin
Mr. H. McLeod
MEAD, Mr. R.C. & Miss - Cabin
Mr. R.C. & Miss Mead
STILLMAN, Mr A - Cabin
Mrs. A Stillman
ZABELL, F.W. Esq. - Cabin
F.W. Zabell Esq.
ZABELL, Mrs - Cabin
South Australian REGISTER Newspaper
http://www.theshipslist.com/ships/australia/dukeofportland1850.htm
ALCHIN, Anthony, b.1834 KEN ENG,
Anthony Allchin
BEAUMONT, E. & wife
E. Beaumont & wife
BEAUMONT, Sarah
Sarah Beaumont
BEAZLEY, E.W.
E.W. Beazley
BEHAM, William & wife
William Beham [?] & wife
BENHAM, W.
W. Benham
BENNETT, James
James Bennett
BIGGINGS, W.
W. Biggings
BILHAM, J. wife and five children
J. Bilham, wife and five children
BOX, J.H. wife & three children
J.H. Box, wife & three children
BRACKETT, C.E.
C.E. Brackett
BROOKES, E.
E. Brookes
BROWN, G. wife & four children
G. Brown, wife & four children
BUTCHER, A.F.
A.F. Butcher
BUTCHER, W.
W. Butcher
CANADAN, C.
C. Canadan
CLARKE, Thomas
Thomas Clarke
CONSTABLE, A.
A. Constable
CONSTABLE, Mary Constable
Mary Constable
CROPLEY, J.
J. Cropley
CROPLEY, M.C.
M.C. Cropley
CROPLEY, S.
S. Cropley
EDWARDS, S.L. wife & two children
S.J. Edwards, wife & two children
EDWARDS, Edward
Edward Edwards
FAVELL, H
FAVELL, E
E. Favell
FAVELL, Elizabeth
Elizabeth Favell
FAVELL, J.(x 2)
J. Favell
FAVELL, G
J. Favell
FAVELL, Sarah
Sarah Favell
FITZGERALD, J.
J. Fitzgerald
FOWLER, E.
E. Fowler
FRIEND, Maria
Maria Friend
GROSMYTH, S.
S. Grosmyth
HAGUE, Agnes, Joseph & Sarah (a Miss Hague died July 4th on voyage)
Agnes, Joseph & Sarah Hague
HALL, R.
R. Hall
HALL, W.
W. Hall
HARLEY, G.
G. Harley
HURRY, John wife & five children,
John Hurry, wife & five children,
HURRY, Miss H.
Miss H. Hurry
JOHNSON, A.M. (a Mrs Johnson died June 29th on voyage)
A.M. Johnson
JOHNSON, Anne
Ann Johnson
KELEY, J
MALONY, P.
P. Malony
MATTHEWS, Mr. & Mrs.
Mr. & Mrs. Matthews
MATTHEWS, T.H, J.W. & J. H.
T.H, J.W. & J. H. Matthews
MEANE, A.
A. Meane
REECE, D.
D. Reece
RICHARD, John
John Richard
SAND, R. wife & five children
R. Sand, wife & five children
SMITH, G.
G. Smith
STELLMAN, Arthur
Arthur Stellman
THEOBALD, Ellis & wife
Ellis Theobald & wife
THEOBALD, Gamaliel & wife
THEOBALD, H., M., M., N. & C.
H., M., M., N. & C. Theobald
TRUSCOTT, A.C.
A.C. Truscott
TURNER, W.J.
W.J. Turner
WEBB, J.
J. Webb
YOUNG, H.
H. Young
NEEDLEWOMEN listed in South Australian REGISTER Newspaper
NEEDLEWOMEN - http://www.theshipslist.com/ships/australia/dukeofportland1850.htm
ATKINS, Ann
Ann Atkins
BAILEY, Frances Maria
Frances Maria Bailey
BARRY, Mary
Mary Barry
BATES, Ellen 30 a needlewoman
BEACON, Mary Ann
Mary Ann Beacon
BERRY, Bridget
Bridget Berry
BIGGINS, Sarah 21 dressmaker
recommended by Rev G Capel of Marylebone
Sarah Biggins
BUSBY, Mary
Mary Busby
CHALKLIN, Eliza 26 a servant
Eliza Chalkin
CHANDLER, Ann
Ann Chandler
COLLINS, Amelia
Amelia Collins
COLLINS, Ellen
Ellen Collins
CROWLEY, Ellen
Ellen Crowley
DOWNEY, Mary
Mary Downey
DUTY, Margaret
Margaret Duty
DYER, Amelia 28 dressmaker strongly recommended by her pastor and other persons
(sub-matron on voyage)
GLEESON, Frances Mary 16 lately in Orphan School Dublin
- good testimonials (from Corfu - born c.1834 possibly at sea)
Frances M. Gleeson
GREEN, Catherine
Catherine Green
HAGERTY, Mary
Mary Hagerty
HEFFERAN, Mary
Mary Hefferan
HEWRETT / HEWETT, Charlotte 26 staymaker recommended by her employer
Charlotte Hewett
LEE, Mary Ann
Mary Ann Lee
LEE, Mary Ann 25 servant
LEON, Mary
Mary Leon
LIDDAU / LIDDAN, Fanny
Fanny Liddau / Liddan
LONDON / LOWDEN, Elizabeth 19 dressmaker well recommended
Elizabeth Lowden
MANLY, Ellen
Ellen Manly
MONIS / MORRIS, Elizabeth
Elizabeth Monis / Morris
MOURITZ / MAURITZ, Ann 33 needlework
Ann Mauritz
MULLINS, Jane
Jane Mullins
PAUL, Isabella 17 servant
Isabella Paul
RIGBY / RIGGAN, Ellen Emma 31 Governess accomplished,
recommended by the Bishop of Hereford
Ann Riggau / Riggan
RIGBY, Ellen Emma
Ellen Emma Rigby
SERCOMBE [JERCOMBE], Eliza 38 Sempstress mother of Mary
Eliza Jercombe
SERCOMBE [JERCOMBE], Mary Gifford 19 Sempstress daughter of Eliza
Mary Gilford [Jercombe]
THOMAS, Eliza
Eliza Thomas
THOMAS, Susannah
Susannah Thomas
TIFFIN [Jercombe] , Catherine 20 needlework
[Jercombe] Catherine Tiffin
WALKER, Maria
Maria Walker
WORRILL, Ann Maria
DUKE OF PORTLAND 1850 - NEEDLEWOMEN TO PT.PHILLIP


The ILLUSTRATED LONDON NEWS reported "Emigration has now become like a great and rapid stream which hurries along its course bringing a very miscellaneous assemblage of interests. The passengers (emigrants) were of very different ranks and degrees. Among them an unusual number of that class called 'respectable' in whose dress and general aspect on had to seek some other cause than pressing poverty for the long voyage, and the new and uncertain future on which they were venturing. Among these there were leave-takings; and on the part of friends returning on shore were tokens of sorrow.

The DUKE OF PORTLAND also brings the third instalment, to the number of sixty, of that female emigration so nobly planned and carried forward by the Hon. Mr Sidney Herbert. They were described by a Gravesend boatswain as "a parcel o'needlewomen" . These boarded on Monday afternoon, accompanied by Mr S Herbert and a few gentlemen interested in their welfare, and placed under the charge of sub-matron Amelia DYER. The spacious cabin in which the poor needlewomen were speedily assembled, mustered and arranged, presented a strange and interesting. The noble hearted and high-born promoter of the emigration plan, the clergy and others employed in superintending the arrangements, the emigrants themselves sitting in quiet order with their looks of cheerful hope, all combined to form a scene characteristic of our time.

Others among the emigrants were sent out in a like manner by means of funds charitably raised among a few individuals. We observed a clergyman taking leave of some of the poor of this great city, who owed their bettered prospects to his exertions. Others of the clergy were also bidding adieu to members of their flocks.

The DUKE OF PORTLAND is a very fine ship and she and here commander, Captain Cubitt, appear to understand making quick voyages. The spiritual interests of the emigrants, and of their children, will not be uncared for, as besides a good supply of books placed on board by Mr S. Herbert and those associated with him, the ship is provided with a 'religious instructor' accredited to his mission on the voyage by the Society for the Propagation of the Gospel in Foreign Parts'.

The SA REGISTER (August 3rd 1850) reported: It was intended that the destination for the 63 young women was Port Phillip Bay. However, Mr Beham, the religious instructor under whose guardianship they were placed, has the power to facilite these 60 women being landed here, if sufficient favourable opportunities of employment can be obtained for them in Adelaide.
NOTE: Forty of these needlewomen found employment in Adelaide. The Mortlock Library at Adelaide has a list of these passengers and who employed them.
The remainder of these women travelled on to Port Phillip (two of whom left the ship without their luggage and "were seen no more").


DUKE OF PORTLAND 1850 - LIST OF NEEDLEWOMEN TO PT.PHILLIP
CLICK EACH IMAGE to see a larger version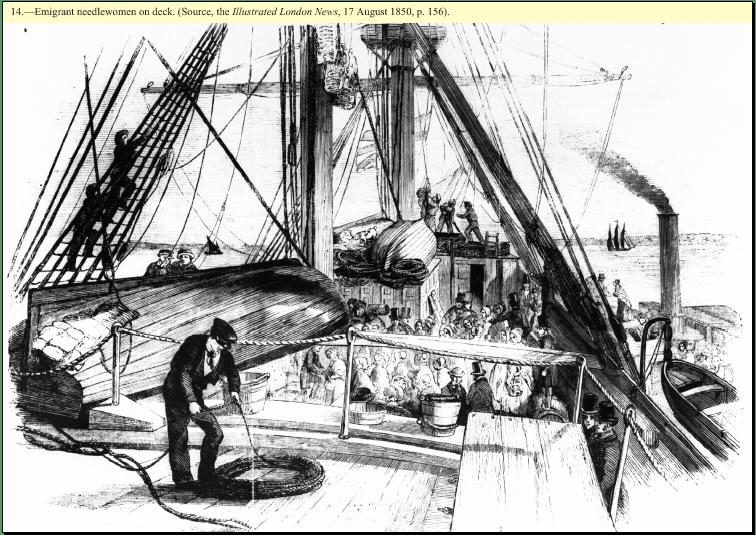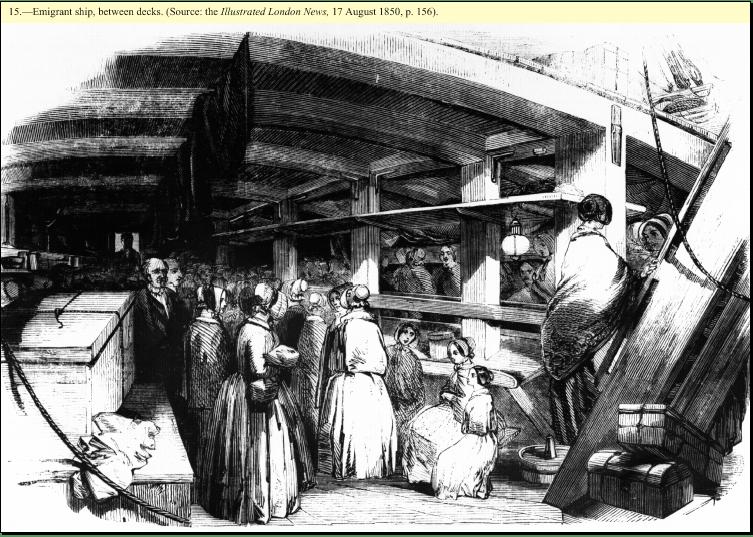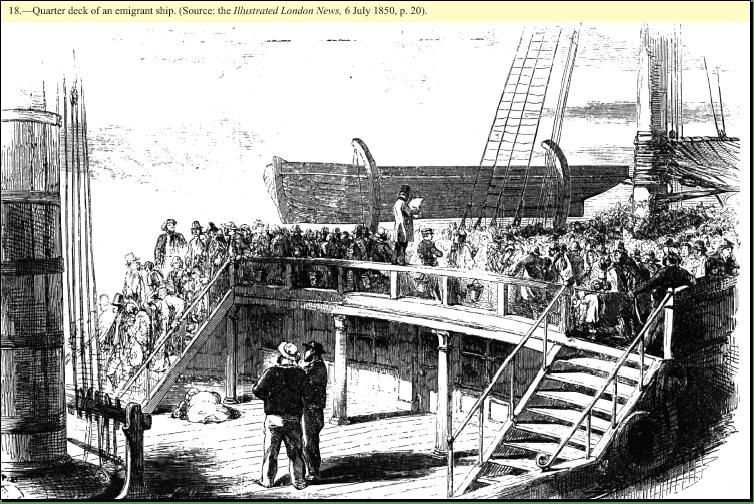 Image 1: Emigrant Needlewomen; Image 2: Inside the Emigrant ship; Image 3: Emigrant Ship - Muster.