They went to the Emigration agents and applied for assisted passage.
John Oatey understood he had to be healthy, sober, industrious and in the habit
of working for wages. His application form required his own signature plus four
others - two from 'respectable householders, one from a physician or surgeon
confirming the good health of John and his family, and one from a clergyman
confirming their good moral character.

The Emigration Commissioners approved John Oatey's application
(probably taking into account that he was young, strong and a stone mason)
and he received an approval circular. Not long after that they received their embarkation orders. John and his family, together with Jeremiah and Phillipa Oatey
(John's relatives) would have made their way from their home at 'Highlanes' in Hayle,
to Plymouth, a journey of about 80 miles (130km), via Cambourne, Redruth, Truro,
St Austell and Liskeard.

Together with other passengers also waiting to board the WILLIAM MONEY
bound for South Australia, they stayed in the Embarkation Depot. Each dormitory
housed some 60 -70 people. These were not the most comfortable in the world,
but as it was only for two nights they put up with the cold stark accommodation.
They were told their quarters on board the "William Money" would be just as cramped.

In the meantime their ship left London, loaded with a variety of goods needed
in the colony, arriving in Plymouth "before noon on September 14, 1814".
The WILLIAM MONEY was built in 1820 in Calcutta for Green and Co. of Bristol, measured 142ft long, by 36ft wide and 26.6ft in height, and nearly re-built in 1829.
It had only just come out of drydock having just been 'newly coppered'.
The Ship's Charter specified that there had to be a certain amount of deck space
for each passenger and proper bed places with curtains, seats, desks, tables, and a school. The ship's surgeon Mr Kemball was provided with his own cabin and permitted
to dine at the Captain's table. There were separate hospitals for males and females,
water closets, an oven for making bread and a large bathing tub and clothes lines
were also provided for the passengers.

During the next four days 372 emigrants were checked by the government inspectors,
and then given permission to go on board. John and Susan found they were accommodated below decks, in the centre of the area known as 'steerage'.
They discovered that many of their fellow passengers were also from Cornwall,
and some came from Ireland and Scotland. Almost all these passengers were
'assisted migrants' (passage paid by the South Australian Governments).

We understand that some of those on board were required to pay their own passage, having been declared ineligible for 'free passage'. They wanted to sail on the WILLIAM MONEY as they were relatives of the emigrants. They were: Rebecca Stevens(44), Loveday Williams (51), Robt. Sergeant (21), Eliza Burgh (40), Johanna William (17),
Elizabeth Nankervis (57), Wm Wade (48), William Rayner (54), Jane Hooper (60) and Phillippa Varco (60) and James Wright. To view this document CLICK HERE

On Tuesday September 19th, 1848, the 'William Money' was taken about two miles
outside the Plymouth harbour by a towing-tug and when the connecting lines were
dropped the tug moved away. The ship's three masts gleamed in the sunshine,
making a spectacular sight as they left Plymouth at 5pm bound for South Australia.

The run down the English Channel began with a fair wind, but after the first day
it freshened to a stiff breeze and the ship began to roll and pitch in a manner that
the passengers found alarming. Amongst the single men the first few hour of sailing
had been spent in high spirits with much jocularity, but as the day ended everybody
became more subdued, and although few would admit it, most of them were struggling
with the first signs of seasickness. It took several days of fine weather to restore
most of the passengers to good spirits and normal eating habits.



The 'William Money' final head count, on arrival in 'the colony' of South Australia:
66 married males and 64 married females, 49 single males and 51 single females.
Children under the age of 14 included 64 males and 57 females,
Infants 11 male and 10 females. Births on board - 2 male, 4 female.
Deaths on board - adults: 1 male, 2 females. Children: 3 male, 6 female.

So many of our ancestors travelled
the same road on their journey to Australia.



CLICK the Spinning Globe
To see the original maritime route from Britain to Australia, and the changed route
which virtually halved the passage time c.1800-1900
HOW THEY CAME TO SOUTH AUSTRALIA
Click here to see
PASSENGERS LISTS
from 1836 to the 1860s



The white cliffs of Dover


Our families felt the same anguish as so many others
who left familiar shores and they felt the same
homesickness when they thought
of their families "back home".

The average length of the voyage to Australia 'under canvas'
from 1840 to 1860 was one hundred and eleven days
while the shortest voyage on record was eighty three days.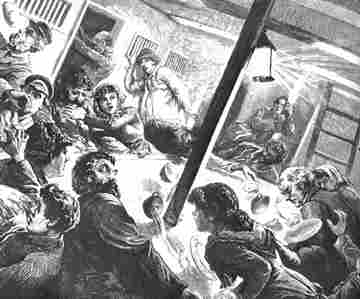 Eventually they settled down and began new lives
in this new country of theirs
AUSTRALIA.